George Lewin Testimonial
Like many good inventions, the Back Buddy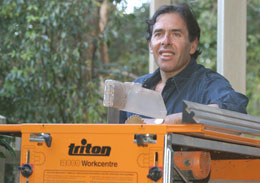 is simple, well-designed, well-made and well-priced. I highly recommend it.
My back has never had so much pampering and attention.
George Lewin

Inventor and manufacturer of the award-winning Triton Workcentre
~~~~~~~~~~~~~~~~~~~~~~~~~~~~~~~~~~~~~~~~~~~~~~~~~~~~~~~~~~~~~~~~

Yvonne Chapman Testimonial.
She is a life member of the National Party.
Was – a Councilor in Pine Rivers Shire Council. Deputy Major Pine Rivers Shire Council.
Member of Parliament as Minister. 14 Years Mayor of Pine Rivers Shire Council.
 This is what she has to say about the BackBuddy.
"Have you ever been so tired at the end of a day and then taken a lovely warm shower and after doing so felt good but something was missing – well believe you me it's the back wash and rub you are missing. I was like this until I had a Uniback in my shower. What a difference it made. Now when I shower it feels so complete.
I feel more relaxed from the backwash and rub and my skin is clean and soft. The more I use it the more relaxed I feel. They say you need to shed old skin, well it certainly feels it's just doing that. The Uniback exfoliates my skin so easily.
My husband thinks the Uniback is a great invention and no longer do I have to call him to wash my back each week. I can do it every day when I shower. What an invention! It is such a great assistance when showering.
You too should try the Uniback Back Buddy and like me will wonder how did I ever do without it – it's amazing".
Yvonne Chapman

Brisbane Quuensland

September 2011

~~~~~~~~~~~~~~~~~~~~~~~~~~~~~~~~~~~~~~~~~~~~~~~~~~~~~~~~~~~~~~~~
Other testimonials

Uniback   … it's a bit like having a friend in the shower!
I find that it's wonderful for soothing that itch, and for scrubbing the back with ease … rough scrub or gentle scrub, depending on my mood.
If you have a problem shoulder, or arthritic hands that can't easily handle a loofah, don't struggle any more …
the Uniback  is just the thing for you.
Once you try it, you'll be amazed how quickly it becomes an indispensable shower accessory.   I certainly recommend it.
Joanne Wheeler
Buderim Gardens
BUDERIM  Qld.
December 2011
~~~~~~~~~~~~~~~~~~~~~~~~~~~~~~~~~~~~~~~~~~~~~~~~~~~~~~~~~~~~~~~~

Uniback Product Road Test
 YOURLifeChoices subscriber Jeff agreed to review the Uniback Back Buddy for us. He found it easy to install and very useful.
Installation
A big plus – it's easy, and you don't need an allen-key, fiddly Ikea screwdriver or engineering degree either.
The unit has an adhesive strip on the back of it and you simply peel off the surface tape, then use the supplied tube of silicone to waterproof the edges of the strip.
After doing that, just mount it to one of the walls of your shower recess. Be careful to mount it at a suitable height to allow for multi-family use. It does have a sliding rail that means the scrub pad area can be adjusted up or down by around 300mm.
User Experience
The Uniback back cleanser literally acts as a spare pair of hands, which means you can clean parts of your back you wouldn't normally be able to reach. The cover of the pad is a reversible cloth with a smooth and a coarse side.  The cover can be removed for wetting or washing. I felt good after using the Uniback, you just need to lean against the pad and rub yourself up and down as required. The pad cover has a loofah type of surface, so you don't need to spend too long using it – but it works nicely. My wife also enjoys using the Uniback and we each use a different side of the pad cover.
~~~~~~~~~~~~~~~~~~~~~~~~~~~~~~~
 Other Testimonials
Thanks to Uniback, my back feels very clean and the skin is very soft now. I had my mother ordering one and she loves the Uniback as much as I do.
Melinda Sutcliffe / Armidale
~~~~~~~~~~~~~~~~~~~~~~~~~~~~~~~
I have been using the Uniback Back Buddy every day for nearly one year. I couldn't imagine not having one on my shower wall. Since I use this incredible back cleanser I miss it when I am not at home. I am reminded of this every time I take a business  trip and I realise that it isn't there.
Raymond Sexton / Richmond VIC
~~~~~~~~~~~~~~~~~~~~~~~~~~~~~~
I have used the Uniback for several months now and just love it.
Susan Bickford / Salisbury / SA
 ~~~~~~~~~~~~~~~~~~~~~~~~~~~~~
WOW ! What a terrific product. The Uniback Back Buddy is the King of Back Cleansers.
Robert Winters, Blackwater, Queensland
~~~~~~~~~~~~~~~~~~~~~~~~~~~~~