The inspiration of the  Uniback now also known as Uniback B

ackbuddy

 

Now you can throw away your awkward old back scrubber.
backbuddy's

unique design means you won't ever have to reach over your shoulder again.
Finally someone has come up with the perfect solution for that age old problem of how to get enough power to wash the middle of your back properly. The Back Buddy is a shower mounted dual-sided back scrubber that cleans and massages all those hard-to-reach spots like no other product on the market.
Ideally suited for day-to-day showering the Uniback also solves a wide variety of specific back washing problems from people working in a variety of industries, to acne and arthritis sufferers. In fact the Uniback was developed as a response to the frustration a mine worker in Mt Isa in Queensland.
Covered in grime at the end of his shift, the miner found it almost impossible to wash the mixture of dirt, sweat and oil from the middle of his back. Every method he had experimented with such as long handled back scrubbers or towelling contraptions were just too awkward to use and never got the job done anyway.
For a back scrubber to work it should be able to be used by a different individuals of all shapes and sizes with a variety of different needs, who need to thoroughly clean and exfoliate the skin on their backs. But the human body wasn't designed to reach its own back. None of the dozens of manual back scrubber designs on the market worked because they simply couldn't create the leverage needed to create enough power to actually clean every point of the back thoroughly. The Uniback designer realised his back scrubber needed to work in a completely different way.
As with all great inventions the solution was simple. The fundamental principle of the design is a back cleaner that is easily mounted on the shower wall and can be adjusted to suit individual heights. The Uniback's unique design means that you will never have to reach over your shoulder again to clean your back.
But the bonus of the Uniback is its special dual-sided back cleaning cloth. Using innovative technology the dense ultra fine microfibre material removes more dust, dirt and bacteria than conventional cleaning fabrics.
Easily reversible, one side of the Uniback cleansing cloth contains thousands of minute bristles that deep clean every inch of your back effortlessly, and invigorate circulation for aching muscles. The softer reverse side allows you to pamper yourself with a luxurious massage experience.
*************************************************************************
ARTICLE COURIER MAIL Queensland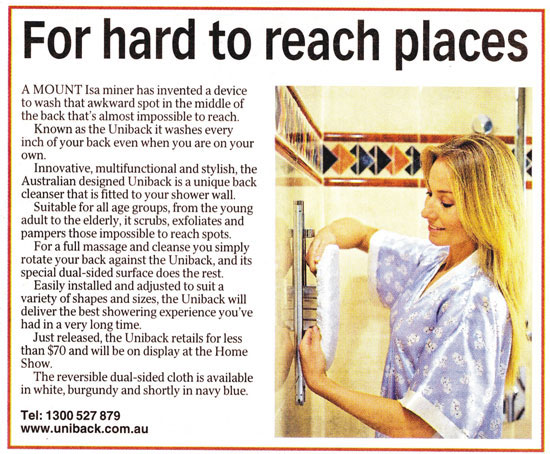 Article by Lifestyle Magazine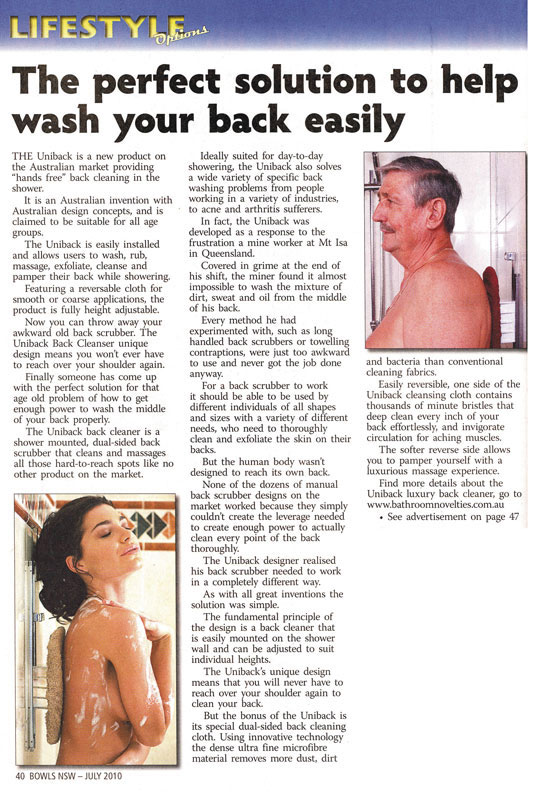 Article by
the Money Show
http://www.perthmoneyshow.com/
The Uniback Reversible Cloth
We've all been there before. We've spent time worrying with cloths in the bathtub that don't seem to quite make the cut. We struggle and strain to reach those hard places, and never quite feel clean because of it. Well, with that in mind I purchased something called the Uniback reversible cloth.
I thought it was a little gimmicky at first to be honest, but then I installed it as directed and was shocked to find out how amazingly useful the thing is. The Uniback reversible cloth is attached to your shower wall via a mounting bracket. Once there you can clean those hard to reach places that you can't quite manage on your own.
Once the bracket and track are installed the Uniback system can be raised or lowered up to three hundred millimeters. A reasonable amount of change allowing the user to reach any number of places they normally couldn't with precision and a lack of the customary frustration.
This is one handy back scrubber. If that wasn't enough you can even remove the cloth and use it as a regular washcloth. There is still a difference from the standard here as well. The reversible cloth has two sides. One side is rough and coarse the other is fine and smooth. This seemingly ordinary product proves to be such an amazing addition to my bathing area that I am surprised I managed to live without it for so long.
The Uniback back scrubber can aid you in exfoliating your back in those places that would normally require outside aid from a friend or professional to reach. You can be rid of expensive fees pertaining to such beauty treatment by simply installing the track and scrubbing up against the coarse or smooth side of the reversible cloth. You can do in a few minutes what would normally require a few hours of your life in planning.
The cloth has an elastic band around the edges that allow it to remain snugly fit to its mount, thus keeping it from sliding around and causing frustration. With this handy bathing accessory you can finally just relax and enjoy your shower again.
Currently the only place you can order one is online at Uniback. You'll be redirected to the bathroom novelties for purchasing. In 2010 the unique item and system will be for sale in department stores and selected plumbing outlets.
—–end—-
***************************************
George Pettit is a traveler and trader. He writes for several important magazines about topics such as business, advertising and interesting products like this unique back scrubber.
For those who are tired of struggling to get to those hard to reach places on your back that seem impossible to reach Uniback has designed a special product that not only allows people to be able to clean and exfoliate their back but do it in an effective easy way.
Uniback provides people with a unique product you apply to your shower with a removable two-sided cloth that gives you the ability to clean your back in two different ways. The one side is soft and smooth perfect for those who have very sensitive skin or like a gentler cleansing. For those who need a more aggressive clean or want a very thorough cleansing you can opt for the rougher side. You can easily apply your favorite soap or body wash to the cloth as well so you can ensure that every part of your body is clean and smells like your favorite fragrance.
The product is also adjustable so no matter how tall you are or how petite you are you can get it at just the right height to ensure your back is totally clean. Besides being the perfect product for cleaning those hard to reach places on your back, Uniback also is the perfect tool for exfoliating your back. To keep your skin looking young and fresh you will want to exfoliate often and rid your back of all those dead skin cells. With the special two sided cloth you can choose from a gentle exfoliation or a rougher exfoliation depending upon your own preference. It is also a great tool for relaxing as you can rub your back up and down on it to ease away any tension you may be feeling left over from a hard day.
The best part about Unibacks' special product is that it is easy to mount and take off. You can leave it on for a short while or for installation to last for a while you can easily put some screws in it for longer lasting usage. With so many different uses and benefits you will be glad you invested in one for your own. You and your back deserve it!
***********************************************
Article from ausbusiness.net
Uniback.com.au – Scrub Your Back – Easy!
By John D • Filed In: Life Style
The Uniback is a special product that you mount inside of your shower. It is great for men, women, teens or anyone who is looking for a good back scrub and an all over clean.
Back Scrubber www.uniback.com.au
Uniback Back Scrubber For Shower
For those who are tired of constantly struggling with those spots on their back that are difficult to reach should consider the great accessory for the shower, the Uniback. For those who are not familiar with this fantastic new style of back scrubber, here is a review of the Uniback.
The Uniback is a special product that you mount inside of your shower. You can easily slide it on there or to make it a more permanent fixture one could install it with a couple of screws. You can install it to whatever height you need to reach all the parts of your back that you would normally have a hard time reaching. The Uniback is the elite back scrubber for many reasons. One of the most important reasons is because of the special cloth it uses.
Back Scrubber For ShowerThis special cloth that is on the Uniback is two-sided. The first side is a softer side which is great for those with sensitive skin or who want a gentle cleansing or mild exfoliation. For those who need a deeper cleaning or a more aggressive exfoliation there is another side that is made out of rougher material. This cloth is easy to put on as well as easy to take off. Many people enjoy using it as a regular wash cloth to clean the rest of their body. It is easy to clean this special cloth and it is made out of very durable material that is not prone to fray. This cloth also features an elastic back which ensures that it will stay fastened as one cleans their back.
Besides being the perfect way to clean your back, it also the ideal product for those who want to pamper themselves. This cloth provides one with the best way to get a great back rub as well as the above mentioned exfoliation. Exfoliation is imperative for those who are looking to get fresh, younger looking skin. It works in a way of getting rid of the dead skin cells that leave our skin looking dull and aged.
The Uniback is great for men, women, teens or anyone who is looking for an all over clean. No matter if you have dry skin or oily skin it is safe to use. After using it for a couple of weeks you will begin to notice your skin starts to feel softer and will be less prone to breakouts. With so many benefits it is easy to see how the Uniback is being added to so many showers and bathrooms!
—–end—-
************************************************************************