Back Massage & Beauty Therapy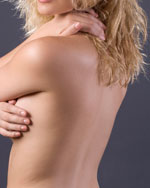 Using a Uniback is one of the most and simple effective ways to massage your back.
By releasing the tensions that build up with the daily strains and stresses of life the massaging motion works to improve circulation and blood flow to the muscles, bringing them nutrients and helping them to remove toxins essentially improving your posture. That's why a massage essentially keeps your back healthy, it feels good but it's good for you too!
Massage your back regularly and you will have a beautiful back with soft and smooth skin.
Look After Your Back
If your spine isn't healthy your back muscles tighten causing inflammation that can result in a whole host of physical and mental conditions such as sciatica, joint pain, arthritis, rheumatism, headaches and insomnia. Back massage is one of the most effective treatments for these problems.
Impossible to Massage YOUR Back Efficiently?
The KEY is leverage. Without leverage you'll never can do it efficently.
Now you can do it yourself with the BackBuddy back scrubber for the shower – the ultimate bathroom accessory.
You will never have to reach over your shoulder again. 
Uniback's innovative features let you wash, exfoliate, rub and even massage your back so easily it's hard to believe.
* Pamper yourself in luxury with a choice of a soft or hard scrub according to your mood.
Uniback Back Scrubber is height adjustable and a snack to fix to your shower wall.
* EXFOLIATE – Using the unique BackBuddy for back exfoliation will result in beautiful,
smoother and younger looking skin.