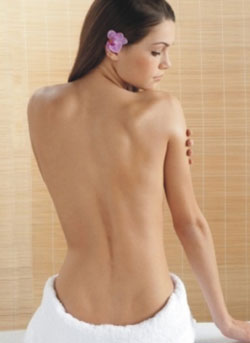 The amazing Multifunctional Backbuddy enhances your lifestyle and delivers pure luxury in the shower.
A practical solution to an everyday living activity. Now you can throw away your old backscrubber, backbrusch, backsratcher or loofah. With Backbuddy you'll never have to reach over your shoulder again! The KEY is leverage and without leverage you can't do it properly.
Clean, healthy-looking skin is always on trend. That's why everyone needs a Uniback Backbuddy in the shower. This patented innovation is an exfoliater, scratcher, back scrubber and massager in one, replacing long-handled back washers and loofahs forever. Easy to install and even easier to use, this unique device mounts to the shower wall so everyone in the family can just lean against it and scrub their ways to healthier, more radiant backs.

Backbuddy is perfect for people living with arthritis or back pain that can no longer effectively use a traditional back brush, and it's endorsed by the Association of Residents of Queensland Retirement Villages. Whether users want a back scratch, a deep exfoliation, a quick scrub or a therapeutic massage, all they have to do is lean against the Backbuddy—no reaching, bending or contortionism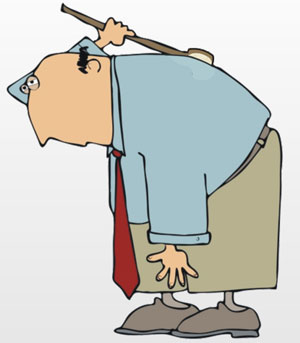 required. Old and young alike will benefit from the ability to cleanse, scratch or massage the entire back quickly, and the Backbuddy is perfect for families. Its adjustable design allows people of different heights to quickly change the Backbuddy's position, lock it into place, and treat their backs to a soothing scrub.
The health benefits of clean skin have been well documented and include detoxification of the body. This process is interrupted if skin is covered in dead skin cells, leaving the liver and kidneys to work overtime. Regular exfoliation has been shown to keep pores clear so skin can function properly, and the Backbuddy's reversible cleansing cloth has a coarse side and a smoother side so users can choose the level of exfoliation that feels best to them.
In terms of beauty, there's no better accessory than gorgeous skin. Picture that little black dress with a plunging back. No longer will hard-to-reach back skin be left to wrinkle, dry and be spoiled by acne. With the Backbuddy from Uniback, back skin can be scrubbed and cleansed every day, resulting in healthier, younger-looking skin that looks great at the beach, at the gym or in a strapless evening gown.
What could be more pampering than a therapeutic massage? Now Backbuddy owners can have one any time 24/7. Massaging your back with  Backbuddy relieves daily muscle tension and improves circulation to back muscles. It can also help relieve some of the suffering associated with sciatica, joint pain, arthritis, rheumatism and headaches. Because users lean against the Backbuddy, they control the pressure being applied to their backs and get the perfect massage every time.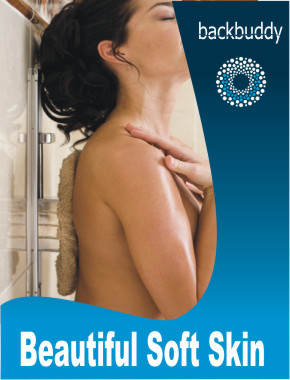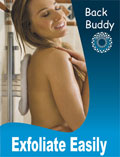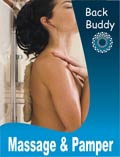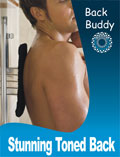 At a fraction of the cost of salon, spa and dermatological treatments, Uniback's easy-to-use, hands-free device offers invigorating back cleansing and soothing massage in the privacy of the user's own shower. Used daily, the Backbuddy leaves backs feeling healthier and looking younger and smoother. The Backbuddy easily attaches to a shower wall with tape and silicon—no tools are required. After being left to dry for 24 hours, the excess silicon is trimmed and the Backbuddy is ready for use. It's marvellous that such a simple device has become such a significant part of users' daily cleansing routines and delivers such important health and beauty benefits.